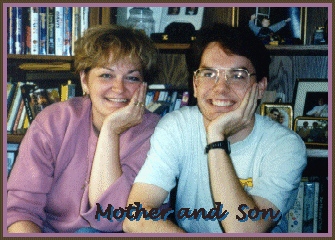 Re-united on Sunday, 8 Sep 1996
At long last, my dream has come true. I began a search, in earnest, for my son during the summer of 1996. Thru adoption internet links, where I received support from so many, and a compassionate caseworker who encouraged me, I determinedly continued my search. I ran into several stumbling blocks, but NEVER gave up. On Saturday morning, 7 Sep 1996, I dialed a phone number that brought me "ear to ear" with my son's adoptive parents, Dave and Ruth Schmidt. The next day, 8 Sep 1996, a reunion took place between me, the Schmidts and "our" son, Kevin. Miracles happen, the first one on 24 Jan 1972 and the second on 8 Sep 1996. It's a new beginning for all of us with our "blended families"
I've decided to write a continuing saga called *Denise's Story* about the search for my son. It includes what happened, how I felt and how I reached my decisions, the *quest* for my son and my discoveries. I want to give other adoptees and birth parents an inspiration to take those first steps to begin your own search, instead of letting the fear "take hold", as it did me for so long.