Welcome to the
MUSHRUSH Cousins
Mailing List Homepage!
This is the homepage of the MUSHRUSH cousins. We descend, one way or another, (directly or indirectly) from Michael MUSHRUSH through several connecting lines. (Go to the MUSHRUSH Cousins' Descendancy Chart) We share, with one another, information that we each individually glean and then email our findings to all the 'cousins' on the mailing list. If you're familiar with the MUSHRUSH surname and feel that you are a long, lost cousin, please join the mailing list.
You can subscribe to the MUSHRUSH mailing list in mail mode by sending a message to MUSHRUSH-L-request@rootsweb.com that contains the SINGLE word subscribe in the body of the message. (be sure to delete all signature lines) Once subscribed, messages should be sent to MUSHRUSH-L@rootsweb.com

An Introduction written by Steven Northsea...
The first Mushrush to arrive in America is speculated to be Michael Mushrush, Sr who was born in 1758 in Scotland. Michael married Barbara Stone in 1778 in England(?). She was the daughter of John Stone and was possibly born in Rotterdam, Holland. An alternative birthplace may have been Scotland. Some Mushrush researchers believe that the children of Michael and Barbara came to America alone as teenagers since some family histories have no mention of the parents. Arriving with parents seems to be more plausible.
Every family seeks connections to royalty, etc. Mushrush researchers are no different. Family rumor has it that Barbara Stone was a lady in waiting to the Queen of Holland and that her father John was a wine merchant. Michael was supposed to be a sea captain and was master on the ship that brought the family to America. The rumor that Barbara was a lady in waiting is probably untrue since Holland had no queen at that time, but she may have associated with what royalty there was at that time.
John Stone translates in Dutch to John Steen. If he was baptized the name translates to Johannes. Mushrush researchers should look for the names John Stone, John Steen, Johanas Van Der Steen, Johannes Van De Steen, or Johannes Steen. He may have been called either John or Jan.
If Michael, Sr. was the Captain of his own ship, it may have been called the "Rose" or some derivative of the word "Rose." The 1790 Allegheny Co., PA census has a Michael Mushtrush (SIC) with a household that includes three sons under 16, and two females, no ages given. Excluding the father and mother, the balance would account for the 1800 heads of household known by Mushrush researchers. It is believed that Michael, Sr. and Barbara had five or six children. They were Michael, Jr., Solomon (?), George (?), and triplets; Rosannah, Jacob and Joseph.
It must be realized that all of this is not proved, but working hypothesis at this time. Alternative theories exist and must be explored. What is proven is that there are a large number of Mushrush descendants climbing this family tree. It is hoped that the Mushrush cousins will eventually prove or disprove this lore and reach back into our family history.
MUSHRUSH links of interest...
To help us understand the complexity of the documented evidence and suppositions that we have about Michael and Barbara Mushrush, Steve Mushrush has created a timeline page showing the mystery that we have before us. Please visit the: Jacob/Michael Mystery Timeline
Visit the Mushrush Heritage Photo Gallery where several of our ancestors' photos are featured. If you have a photo to add to this online photo collection, contact Steve Mushrush at: mushtwo@aol.com

For additional web-based searching on the MUSHRUSH surname, you can access the "MUSHRUSH Resource page" located at RootsWeb at the following web address: http://resources.rootsweb.com/surnames/m/u/MUSHRUSH/

The Mushrush family settled in an area of Crawford Co., PA. called Conneaut Lake. By 1849, many Mushrush families were land owners and this map shows that ownership. Click on the thumbnail map to the right to access a much larger, detailed land map(71.2K).
Several of the MUSHRUSH cousins have been posting 'queries' to the GenForum website. This NEW link will take you to the MUSHRUSH
page, where we can post queries, for others to see on the MUSHRUSH surname.
Current MUSHRUSH cousins list...
No.
Name
Email Address
City, State
Birthdate
Descendancy
1
Melissa Anderson
dns487@aol.com
Clovis, CA
23 Aug
DOJ
2
Dixie Asbury
asbury7@htn.net
Lake Placid, FL
18 Jun
DOM
3
M. Jean Beierlein
mvb1@psu.edu
State College, PA
23 Oct
DOJ
4
Janice Benjamin
rsorchrd@televar.com
Omak, WA
20 Sep
DOM
5
Jason Benjamin
jasonbenjamin@wa.freei.net
-
-
DOM
6
Tammy Mushrush Berger
mushrush@hotmail.com
McKinney, TX
4 Aug
DOJ
7
Kim Bloodgood
kimberlyjane1969@hotmail.com
Valley Center, CA
29 Jun
DOJ
8
Judy Christiansen
JPtourist@aol.com
Fayetteville, NC
13 Jun
DOM
9
Gary Coates
gacoates@yahoo.com
Lakeland, FL
19 Jun
DO?
10
Mary Jo Mushrush Davis
mjd@mdvl.net
Meadville, PA
11 Jan
DOM
11
Karl D. Dennis
kdennis@toolcity.net
Conneaut Lake, PA
8 Jun
DOM
12
Jeff Dudley
jdud@uswest.net
Moorhead, MN
2 Aug
DOJ
13
Russ Ellis
russellellis@webtv.net
Bertha, MN
29 Jan
DOR
14
Alan Foreman
alan.foreman@atf.gov
Manassas, VA
13 Aug
DOJ
15
Denise Frederick
defred@charter.net
Petoskey, MI
15 April
DOR
16
Virginia Gandy
vg@web-access.net
Coleman, TX
19 Jun
DO?
17
Martha Anne Crosley Graham
mawr91@peoplepc.com
Morro Bay, CA
21 Nov
DOM
18
Grace-Marie Moore Hackwell
Shortyhack@aol.com
Freedom, CA
26 Aug
DOJ
19
Kena Hall
PUGS53@aol.com
Parma Hts, OH
13 May
DOJ
20
Chris Hood
hood3@hotmail.com
Grove City, PA
11 Feb
DO?
21
Bev Hopkins
BJHErie@aol.com
Erie, PA
2 Jan
DOM
22
Harold Huston
dorothyFeb18th@webtv.net
O'Neals, CA
14 Aug
DOJ
23
Marcy Klaus
jjklaus@ironmans.net
-
-
DOM
24
Linda Klimko
LIN1DEN1@aol.com
-
8 Jun
DO?
25
Pat Madison
pam1@mach3ww.com
Mason City, IA
7 Dec
DOR
26
Diane & Ken Martin
kakeman@cavtel.net
Sterling, VA
11 Jun
DOJ
27
Marcia Mathews
Mleebru@aol.com
Rapid City, SD
28 Apr
DOM
28
Donna Mazzucca
10 Sep 1934-21 Jun 2002
Fred Mazzucca, Jr
Tinton Falls, NJ
10 Sep
DOM
29
Sandy McLean
sjmclean12@hotmail.com
Salem, OR
-
DOM
30
Dave Mothkovich
dave9759@juno.com
Loves Park, IL
7 Sep
DOJ
31
Jolene Murphy
1murphy@cox-internet.com
Bella Vista, AR
11 Dec
DOR
32
Brad Mushrush
brad@mushrush.net
Yorba Linda, CA
17 May
DOJ
33
Christopher E. Mushrush
cemushr@ilstu.edu
Normal, IL
16 Dec
DOJ
34
David & Joni Mushrush
mush@toolcity.net
Meadville, PA
20 Mar & 17 Aug
DOM
35
Eldon Mushrush
mushrush@ipa.net
Alma, Arkansas
29 Jul
DO?
36
Guy Mushrush
Ldmushrush@email.msn.com
Moncks Corner, S.C.
14 Sep
DOM
37
Grant Mushrush
grantmushrush@yahoo.com
Quail Valley, CA
10 Jan
DOM
38
Jason Mushrush
Mushkratt@aol.com
Everman, TX
27 Dec
DOG
39
Ken Mushrush
kmushrush@sprynet.com
Miami, OK
23 Nov
DO?
40
Kenneth H. Mushrush
mush@brightok.net
Stroud, OK
14 Mar
DO?
41
Marty & Rhonda Mushrush
mushrush@dnvr.uswest.net
Westminster, CO
8 May & 28 Sep
DO?
42
Patrick Mushrush
mushrush68@hotmail.com
Holts Summit, MO
-
DO?
43
Robert "LeRoy" Mushrush
matret@strato.net
Wachula, FL
13 Mar
DOM
44
Seth Mushrush
sethmushrush@hotmail.com
-
-
DOM
45
Steve Mushrush
mushtwo@aol.com
Erie, PA
24 Jan
DOM
46
Telly Mushrush
klondike2020@aol.com
Saint Matthews, SC
-
DOM
47
Terry Mushrush
tmushrush@qwest.net
Trophy Club, TX
30 Mar
DOM
48
Philip Nevels
pnevels@aol.com
Denver, CO
6 Sep
DOR
49
Steve & Michel Northsea
SNorthsea@worldnet.att.net
Dunnellon, FL
2 Oct & 27 Sep
DOM
50
Pat Olson
p-lolson@juno.com
Forest Lake, MN
25 Nov
DOR
51
Marlene Polster
mars@mail.icongrp.com
Crown Point, IN
30 Oct
DOM
52
Kay Ratliff
bigiron@surewest.net
Newcastle, CA
13 Jul
DOR
53
Jeff Rigby
rigby@berk.com
Hudson, NY
-
DOM
54
Sarah Robinson
Krobin0311@aol.com
Eldersburg, MD
5 Aug
DOJ
55
Daniel Rolph
dan@rolph.com
-
-
DOR
56
Sandy Schroeder
slschroe@intrepid.net
Berkeley Springs, WV
6 Aug
DOR
57
Gigi Shafer
GigiMushrush@aol.com
Covington, WA
30 Nov
DOM
58
Sharon Shaw
graymawkin@earthlink.net
Los Angeles, CA
2 Jul
DOJ
59
Delilia Shepard
tscdt@strato.net
-
-
DOM
60
Bob Todd
bobtodd3@home.com
Manassas, VA
2 Sep
DJQ
61
Nancy Wellington
petlair@webtv.net
O'Neals, CA
26 Jun
DOJ
62
Marilyn Wheeler
kwheeler@brightok.net
Stroud, OK
17 Sep
DO?
63
Ken Wicken
sondreland@aol.com
Springfield, MO
20 Nov
DOR
64
Dorothy Wooding
dmmushrush@juno.com
Carson City, NV
6 Jan
DOM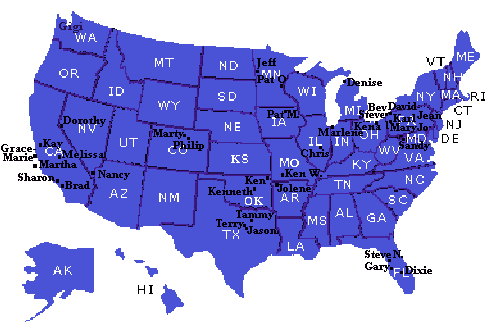 This is where most of the MUSHRUSH cousins are located... this is not complete.
Click on this link and meet the MUSHRUSH cousins by reading their biographies.

As of 5 Jan 2000, we now have a MUSHRUSH webpage located at MyFamily.com. This is a private website and is by invitation only. If you have an interest in joining the MUSHRUSH cousin's group, please email Denise and ask to be invited to join the MUSHRUSH MyFamily.com community website.
If you are a visitor to this website and have a question about your MUSHRUSH heritage, please sign the MUSHRUSH Guestbook.
Sign the MUSHRUSH Guestbook
View the MUSHRUSH Guestbook

[top of page]
Go to the MUSHRUSH Cousins' Descendancy Chart
This page was updated 28 Nov 2004
Design and updates of this page are by Denise Frederick , Copyright © 1998-2006
This Page Has Been Visited

times.... since 9 Aug 1998