>
Welcome to Zachary Ryker's Little World on the Web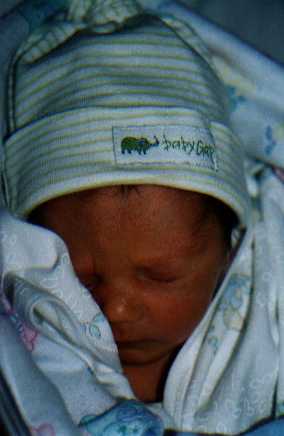 Hi, I'm Zachary Ryker Ernst, or Zachary to my friends, and I'm the newest addition to my family. I was born at Tripler Army Medical Center in Honolulu, Hawaii and I live in a little town called Wahiawa that is located right in the center of a Dole pineapple plantation. I arrived at 7:52 am on May 31 (which happens to be the day before my Mommy's birthday) and I weighed 5 pounds 3 ounces and measured 18 inches on my birth day. (I might be small, but I'm strong and healthy!!!) My Mommy and Daddy are JR and Jennifer Ernst and my Grandma's and Grandpa's names are: Julie and David Fairfield of Petoskey; Raymond and Charlene Taylor of Petoskey; Sandra Ernst of Penrose, Colorado and John Lee Ernst of Clarksville, Tennesee. I have 8 great-grandparents, too.

These are the things I like best so far:
My naps


My stylish hats


Snack time


Hugs and kisses


Watching Red Wings Hockey!
If you want to email my proud Mom and Dad, you can click on this link and send them a personal note of CONGRATULATIONS...or...sign my guestbook below so my Mommy and Daddy can read it to me!!!!.

[top of page]
This page was created 3 Jun 1998
Design and updates of this page are by Denise Frederick, Copyright © 1998
This Page Has Been Visited times....since 3 Jun 1998