The Walloon Lake Country Home
This wonderful old home has been in our family since 1922 representing four generations of ownership. When you visit, you too, can be a part of the history of this beloved home located at Walloon Lake. Travel several miles to arrive at the doorstep of this ancestral home. The crackling fire in the fireplace staves off the cold winter chill and the flickering candles, placed around on old fashioned lace covered tables, creates a sense of warmth and well being. Sometimes, cinnamon spiced cider simmering on the stove or a fresh baked apple pie greet arriving guests and special friends as they join us in bringing love and laughter, joy and smiles to this beloved old home at Walloon.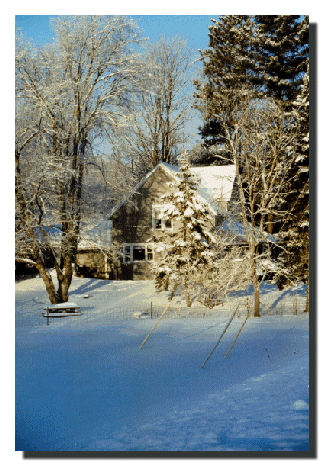 Is your vacation around the corner and you're wondering where to stay? Visit the Walloon Lake Country Home and experience the joys of an old fashioned vacation. Gather your family, and visit the historic area where Hemingway lived. Play in the yard, or enjoy activities that a northern Michigan get-away has to offer.
Relax in the East bedroom, where the bright morning sun greets you and the birds sing their sweet morning songs. Maybe the soft, setting sun is more to your liking? The West bedroom offers the soft lake breezes wafting in through the windows and the soft rays of the setting sun dance on the walls. The large country kitchen window allows you to eavesdrop on the visiting birds as they nest or dance there way to the feeders. The huge dining room creates a perfect dining experience with lace tablecloths and old-fashioned silver. In the winter, relax by the warmth of the fires' glow from the living room fireplace... or during the warm summer months, enjoy the large front porch as you sit in a rocking chair. Soft lake breezes touch your cheek and fresh air cleanses your soul... this can all be yours to enjoy and experience.
Call or email today... to reserve your vacation time at this affordable and cozy home. Centrally located and easy to find, the Walloon Home is one mile from the Village of Walloon, and 10 miles south of Petoskey. If winter activities are to your liking, the home is only 6 miles north of Boyne Mountain, where you will find the area's best skiing facility. The home offers 2 floors of living space with 3 bedrooms and half bath upstairs and 1 bedroom and a full bath on the main floor. Kitchen and laundry privileges included. Cable TV and phone available. Security deposit required to secure rental dates.

[top of page] Contact Denise or Terry Frederick to reserve your vacation stay today.
Or write: Walloon Lake Country Home, 423 Beech Street, Petoskey, MI, 49770
or call: 1-616-347-0122
This Page Has Been Visited times....since 22 Mar 1998