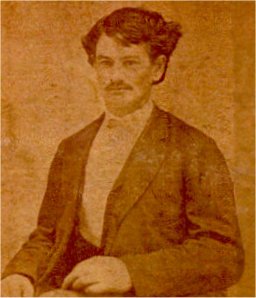 Ham Palmer
He was born in 1848. He appears in his father's household in each of the Federal Census records through 1870, but he too is missing in 1880. The only information about him comes from a letter home he wrote in 1883 from Globe, Gila Co., CO, where he had stopped on his way to the California gold fields. Struck by the opportunities for farming offered by the land there, he asked his parents and his brother Sam to lend him the purchase money so he could settle here. His letter to his parents mentioned Indians who were "raising the d---l" in the area. "After that," Jane wrote, "silence."

Dear Father and Mother
Globe Gilla Co., Feb 8th 1883
I have for some time been thinking that I would answer your letter but having been on the move too much of the time and thinking that I would wait until I got settled, but this being a rainy day I thought I would stay at camp and write. I left Russelville (?) the forth of last Dec. and have been on the tramp all the time since. We are camped about six miles from the Apache reservation we hear that they are raising the d-l at Clifton but we do not apprehend any trouble from them here. We are all armed, and keep bright eyes. I am camped with a man by the name of Joe Aselsey (?) he is an own (?) cousin of the noted Kit Carson he has led a frontier life since his babyhood he was captured when he was fourteen years old and remained with the Indians two years, can talk their tongue as well as he can his own. You can tell ? and ? I will write to as soon as I get settled. I remain your affectionate son, Ham"