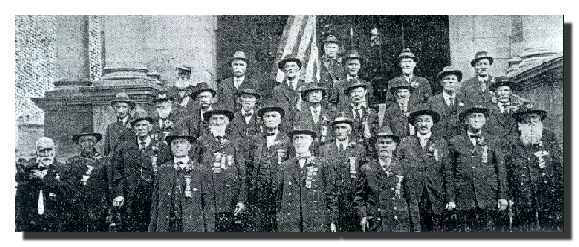 Welcome
To The
Emmet County, Michigan
Civil War Homepage!

Hi, my name is Denise Frederick and I maintain this Civil War page.

Pictured above is a photograph, dated 24 May 1951, submitted by Louise Foltz of Petoskey, featuring Emmet County, MI Civil War veterans. The caption under the picture is as follows:
"MEMORIAL DAY 30 YEARS ago saw 28 members of Lombard Post Grand Army of the Republic, assembled at the court house in Petoskey to honor the Civil War dead. All have since passed on. This photo was taken by John Foley. Six of the men couldn't be identified by Robert Tripp, Nathan Stone, Lewis White, or Winfield Hinds. Read these names and if you know who they are, drop the Review a card. Front row, left to right are: E. A. Dunston, Melvin Burch, Sylvester Puckett, W. R. Montgomery, second row: John Duvernay, Frank Jones, W. F. Lawton, Christopher Hankey, (unidentified), Flavel J. Smith, V. A. Baker, Frank Schluttenhofer; third row: R. W. Treadwelter, Horace M. Wilcox, George Richmond, John Davis, Charles Harris, (unidentified), Cyrus Wright, (unidentified), J. H. Wells; back row: (unidentfied), Amos Wallace, Clark Riddle, (unidentified) Mr. Wilbur, and Francis J. Eaton. The photo was taken 57 years after the Civil War was over according to N. J. Stone."
If you would like to contribute information to these pages or know of other appropriate Emmet County, MI Civil War links, please let me know.

American Civil War Links

Michigan Civil War Links

Emmet Co., Michigan Civil War Links

Genealogy links to aid in your research