Emmet County Genealogical Society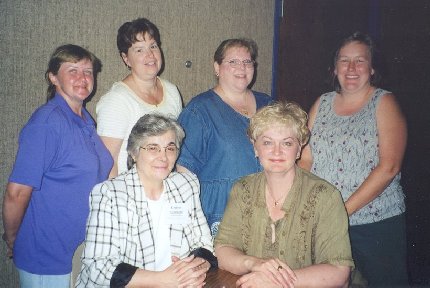 The 2000-2001 Board of Officers
Back row from left:
Recording Secretary: Jocelyn Malak; Treasurer: Alta Munson; Historian; Teresa Huerta; and Corresponding Secretary: Vicki Stark.
Front row from left:
Vice-President: Earlyne Achelpohl, President: Denise Frederick
Welcome
The Emmet County Genealogical Society board of Officers would like to welcome each and every one of you to visit us at one of our monthly membership meeting. Our meetings are held the first Tuesday of each month at 7:00 pm at the Family History Center Library at the LDS Church, located on the corner of Alcan and Country Club Roads, in Petoskey, MI. We hope to see you there!

Emmet County Genealogical Guest Book!
View The Comments Here! | Sign The ECGS Guest Book Here!

[top of page]
This page was created 18 Aug 2000
Design and updates of this page are by Denise Frederick, Copyright © 2000
This Page Has Been Visited

times....since 18 Aug 2000
Return to: Emmet County USGenWeb homepage
A very special 'thank you' to our Historian, Teresa Huerta, for the picture located at the top of this page.